For reasons probably connected with A) Dundee United's status as a top-flight side and B) Rangers' (temporary!) disposition toward resembling a sub-par, bottom-floor collection of underachievers, the available odds for tomorrow's game are generous: if you want to bet on Rangers or like setting fire to money.
Rangers seem a general 3-1 to win and one can just about still get Dundee United at positive odds: somewhere around 11/10 with BetVictor. But don't do that.
The draw at around 13/5 might tempt some who believe Ally's 8-1-1- formation will work. If you're going to go down that route then look for penalty shoot-out odds. Who doesn't love a penalty shoot-out? Aye. So....what about some less heart-attack inducing proposition bets?
Odds that Richard Foster proposes to his new beau Amy Macdonald.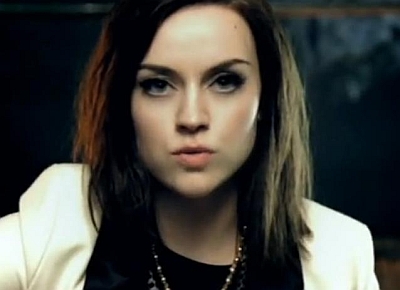 At Half time – 100/1
During a Dundee United attack – 33/1
Stephen Thompson begins process of 'allegedly' fathering another love child during the aftermath of a Dundee United goal.
Whatever the going rate is for alleged lawyers.
Some seriously funny Dundonian cunto comes dressed as one of the Broons.
From a city where Daphne is considered a goddess nonpareil there can be no odds offered on this.
Jim Spence tells Radio Scotland listeners that he expects to be nominated for an Academy Award for his performance in Muppets: Most Wanted
"Mee-mee-mee.Sevco.Mee-Mee."
The lure of Rangersitis brings to the stadium King Charles, the spaniel (with the Blue Room)Stockbridge and co?
5% bonus on all odds, repayable as a loan.
Chairman David Somers tests out his forthcoming 'Redundancy Pay-Off Lolz' Edinburgh Fringe show during the half-time interval.
16.1M/1
Most Worshipful Master Bro Bobby 'Robert William of Orange' Madden gives Rangers a penalty.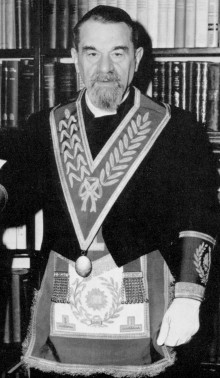 (Decimal odds) 16.90
At least 20% of those moaning about getting Club Deck tickets get good seats in the Club Deck and realise the view is great.
1/3
The other 80%, realising the pitch appears to have been taken in and there's no leg-room, spend much of the game standing and are thrown out by the over-officious supervisor in CD5.
Evens
After last week's hammering from Timmy's Mallett, the great Lorraine Kelly will pull off Pat Sharpe?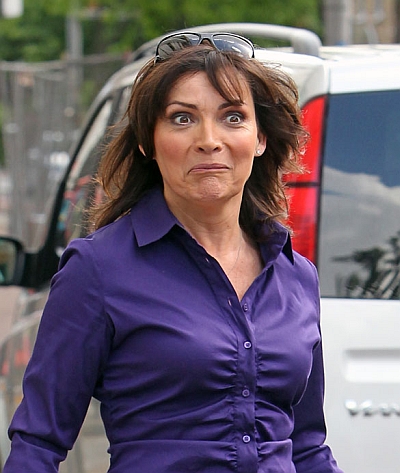 50/1
Supporters of other clubs will spend most of their day ignoring their own teams and tweeting non-stop about 'Sevco'
1/#Inadequatesadobsessedemptyexistencetillion
The Union Bears will unveil a stand-filling tribute to both the Ultimate Warrior and the birthday anniversary of King William III
Shhh.
Some of our fans will unveil a Pro-Board banner and finally disprove the notion that they are, Borg-like, incapable of any semblance of humour.
Bro.
The entire f***&%$ starting midfield of my Fantasy Football League team is either f***&%$ injured or doubtful and I'm going to have to waste points on covering the potential... (Cut).
Sorry, don't know how that got in there.
Club media personality Andrew Dicko RFC Dickson will spend half-time climbing up and down the steps of the Copland Road Stand in preparation for his next Munro and to meet his fans.
64/1 (It's a good cause – please go here and give what you can)
http://www.beatsoncancercharity.org/support-us/news/article/andrew-dickson-climb-64-munros-one-year-beatson-cancer-charity
A new fan group called Rangers Statements will be spontaneously formed during an entertaining first-half breakaway*
*A punt from Foster which enters the United half before bouncing into the Govan
2/1
Rangers First/Buy Rangers will sponsor the coin toss
Heads and Tails
Gavin Gunning will still turn up on Sunday
500/1. Pesky Gremlins.
Following an 8-1 Rangers victory, the team pose for a selfie that is sufficiently awesome to make everyone forget how fucking awful this craze has become in such a short period of time
100,000,000,000,000,000,000,000,000,000,000,000,000,000/1
Blowhard Keith Jackson will lose his home and be forced to sleep under a bridge with Hugh Keevins.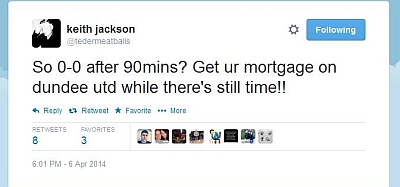 (Prays)
Super Ally will be taking up a new job as Karaoke host at a local pub in Renfrewshire
Oh fuck off. What a funny guy you must be.
The Bears will go home happy
Not even Richard Dawkins or Mystic Meg can tell us that.
However, Richard Foster (first goal scorer) and Rangers to win 2-1 is 240-1.
He owes us one. Please bet responsibly. WATP.